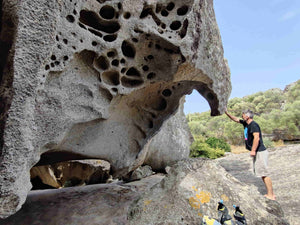 "Looking for Funky Gifts for Climbers or Boulderers? It seems you are in the right place."
Passion for bldrng and beer is serious bussines
We are a Slovenian boulder-hugging threesome. We wholeheartedly support people who climb with clothes on. Furthermore, we decided to make some t-shirts, especially for them (check them out and have some laughs).
As Peter, one of the cofounders, once said, our rock climbing philosophy combines the teachings of the legendary Muhammad Ali and the famous Isaac Newton: 'Float like a butterfly, sting like a bee,' and 'What goes up must come down.' We aim to embody these teachings by floating like a butterfly and falling like a stone.
On the pic Peter in an a moment when he realized that gravity is a bitch.
With the eventual profit, we will go on a bouldering trip. We promise we will send you a "thankyou" newsletter with pictures of our sends, fails, and everything in between. But first, you should subscribe :))))))
More embarrassing facts about us
Blog
---
Looking for the perfect gift for your climbing buddy? If you want to make your climbing buddy happy, we've got you covered with some fantastic gift ideas straight from Slovenia - the land of serious...
Take this short funky quiz and find out "Which Climbing Hold are You?" and "Discover Your Personality Type Based on Different Types of Climbing Holds". Maybe you'll see yourself in...
Bouldering can teach you some pretty wacky things. Read 10 lessons, have some fun and maybe think about them from time to time. We promise: no pictures of naked gorillas,...